Emotional Baggage Release
with
The Emotion Code
The Emotion Code is a transformative energy healing technique developed by Dr Bradley Nelson, a holistic chiropractor, to identify emotional baggage (aka trapped emotions) that could be trapped inside the body using kinesiology or muscle testing. This simple but powerful tool may help ease physical symptoms, relieve emotional pain, strengthen relationships with self or others and remove emotional blocks for a happier, more abundant life.
We believe that trapped emotions can::
​​
Disrupt the body energy field, possibly lead to physical discomfort

Cause emotional distress and feel out of balance

Trigger certain negative emotions, lead to over-reacting or behaving in certain ways in a repetitive pattern

​Make you feel isolated or disconnected from others

Block you from fully experience love, joy and abundance
3-Step Emotional Energy Release
​
IDENTIFY
and target the emotional baggage that may be the cause of your issue by asking the right source - your subconscious mind
RELEASE





negative energies permanently in seconds one at a time using




The Emotion Code method, instead of masking your wounds
SET FREE
​
stop letting your past turmoils take the driver's seat - take your control back and open the door to physical and emotional balance restoration
Clients have reported positive outcomes with:
EASING

PHYSICAL DISCOMFORT
​
May get relief from distress
and suffering and ease up
the potential causes
EMOTIONAL
DISTRESS RELIEF
​
May feel more emotionally balanced, centred, happier, calmer and less stressed within
HEART-WALL
CLEARING
​
Remove layers of negative emotions from around your heart to reveal your authentic self
EXPERIENCING ABUNDANCE
​
Clear barriers to open up the possibility of success and allow the flow of prosperity
STRENGTHENING RELATIONSHIP
​
Release blocks to love, deepening relationship bonds and increase your ability to connect
GENERATIONAL HEALING
​
Emotional energy healing on
yourself and across past
and future generations
Gabrielle Y.
USA
​
Relationship with Self & Family + Hip Discomfort
Polly did my emotion code session via proxy. Being it was my first session ever I didn't know what to expect and eager to release some of my trapped emotions. Polly helped me narrow down which issues I (subconscious mind) wanted to do and told me what to expect. My session with Polly blew me away and I couldn't be more thrilled with the results. Pain in my hips are now gone, my kids have noticed my lighter and fun spirits and I feel more grounded. Polly was able to release 9 trapped emotions within me and explained each one. There's so much to gain. I highly recommended Polly to anyone who is looking for an Emotion Code session. She did great releasing mine and I'm forever grateful!
Decoding the Secrets of
Your Body

,

Mind and Spirit
with
The Body Code
The Body Code is a revolutionary energy balancing system designed to uncover the underlying causes of your physical or emotional suffering in the body, mind and spirit so that you have the opportunity to make corrections and recover balance.
The process is simple. First, connect with your subconscious mind using kinesiology or muscle testing and let it navigate through the comprehensive Body Code map until you are guided to a specific area, which may potentially be a root cause of your issue suggested by your subconscious mind. The imbalance can then be corrected energetically on a deeper level on the spot to restore better balance and health.
​
The Body Code consists of 6 major components which we believe have a close relation to the wellbeing of the body and spirit.
The 6 Departments of Balance in your Body, Mind & Soul
Energy
Removing negative energies relating to past traumas, offensive or mental energies and trapped emotions (this department includes The Emotion Code)
Circuit or System
Correcting energies by addressing the imbalance in organs, glands, energy body and other systems such as body cycle or rhythm
​
Pathogen
Looking into any physical or energetic forms of mold, virus, parasite, fungus, bacteria and more that may contribute to imbalance
Misalignment
Digging deep into any misalignment in soft tissue, chakra, system, skeleton or meridian to help put your body back in place energetically
Nutrition or Lifestyle
Finding out if your body needs any outside needs such as exercises, nutrients, essential oils and more to help the body restore balance
Toxin
Identifying toxins such as food toxin, drugs, heavy metals, radiation, EMF, chemicals and more to help restore balance​
Rahel W.
Berlin Germany
​
Irregular Sleeping Pattern
I thought I could only be able to sleep again by luck... (Now I can) sleep through the night :) I feel awake when I wake up and not tired as before. (I'm) a lot more solid and strong and relaxed to do the things I want to do, to stand much more with my feet on the ground! Thank you so much for your quick help Polly! I so extremely appreciate your help and true healing..! A big Thank You! ​
FAQs and Policies
Sessions
Do I have to prepare anything before a session?
---
Make sure you drink more water and stay hydrated. This helps me connect with you and use muscle testing more effectively. Other than that just relax, be open to energy healing.
---
How many sessions do I need?
---
There is no set number of sessions as every "body" is different and so the amount of clearing is different. For example, we all have different culture, parents, upbringing, recovery time, how our bodies respond to healing, past events we've experienced and even our ancestors and their life experiences. Some people see improvement after one session, often times several sessions are required for more clearing.
---
Do you need my permission to work on myself, my child or pet?
---
Yes, I need your permission and consent to communicate with your subconscious mind. For children aged 15 or under, permission must be given by a parent. It is not necessary to let your child know that they're being worked on. For animals, permission is required from the owner.
---
I'm a bit concerned about sharing my past to anyone.
---
It is not necessary to share your stories in details. In most cases all is needed is descriptive symptoms or issues so that we can ask the subconscious mind more specific questions to get better results. It is important to me that you feel safe and comfortable with our sessions. Your privacy is always respected.
---
My issue has returned. What's happening?
---
It isn't unusual at all and it doesn't mean the trapped emotions have returned to the body as they are permanently gone once released. It most likely indicates that you've scraped the surface and now a deeper layer has surfaced up for more clearing. ​
---
How is a session held?
---
All sessions are done remotely via proxy no matter where you are in the world. Remote Session by default: You don't need to be physically present in a remote session. Simply book a time with me and I will connect with you energetically at the scheduled time and work on you. We can also jump on a phone or video call if preferred/requested. Your detailed session report will be sent to you after a session is completed.
---
Is there any expiry dates for my paid sessions?
---
Paid sessions must be used within 90 days of purchase. Please keep an eye on the usage period when you reschedule or transfer your unused sessions to someone else.
---
I know someone who may benefit from your sessions, can I purchase your sessions as a gift?
---
Certainly! If you want to gift a session or a package, simply purchase an eGift Card on the "Services" page. The eGift Card amounts available are equivalent to the corresponding sessions or packages of the same amounts shown on this website. To see eGift cards terms & conditions, please go to "Payment & Cancellation Policy" tab for information.
---
---
Payment & Cancellation Policies
Payment Policy
---
All sessions must be prepaid as part of the scheduling process. Payment of your sessions will confirm your appointments. Any scheduled sessions will automatically be cancelled without notice if full payment is not received 48 hours prior to the next scheduled session. Payment is non-refundable but transferrable if you wish to give away your unused sessions to someone else in need. Please notify the practitioner at least 48 hours prior to the next scheduled session if you wish to do so. All prices on this website are in Australian dollars. To convert prices to your local currency please click here. The converted prices are estimates only. All prices are final at checkout.
---
Cancellation Policy
---
Please give at least 48-hour notice if you wish to reschedule or transfer your unused sessions to someone else in need. If you wish to transfer sessions, please email Polly at pollyheals@gmail.com or submit your request here with the name and contact details of the person you are transferring the session to with their permission beforehand so that I can contact them. Note that paid sessions must be used within 90 days of purchase. This includes transferred sessions.
---
eGift Cards Terms & Conditions
---
eGift Cards amounts are in Australian Dollars (AUD). The eGift Card amounts available are equivalent to the corresponding sessions and packages of the same amounts shown on this website. eGift Cards are non-refundable but transferrable. They do not have expiry date however it is recommended to use it within 90 days before it gets forgotten.
---
Payment Methods
---
Credit card and Paypal are accepted. The "Book Now" buttons on Services page direct you to credit card payment. If you prefer Paypal, please go to this paypal.me/pollyheals link, enter the amount and proceed as instructed. Please make sure you provide your name and current email address in the "Add a Note" field at checkout.
---
---
Energy Healing
What should I expect from energy healing?
---
Just like what you expect from other modalities such as conventional medicines or acupuncture, your body takes time to heal. Think of it this way: Most issues don't develop overnight, so as healing - it also takes time. Keep in mind that energy healing is not a magic pill, although it is possible to see amazing results within a short period of time, your physical body realistically requires time to adjust and recover. You may experience one or more of the followings: (1) noticeable improvement after one session or within a very short period of time; (2) subtle, gradual improvement over time; (3) not seeing any noticeable results at the beginning of the energy healing journey (for various reasons). A lot of people have reported that they feel lighter and calmer, some experience "bonus advantages" as such feeling better emotionally, better relationships with partners, etc. after working on physical issues. In some cases,"Healing Crisis" may also be experienced for some people. Please go to "Processing & Healing Crisis" tab for information and videos.
---
Does distant energy healing work as effective as doing it in person?
---
Energy connects via intention instantly regardless of distance. Albert Einstein called it "Spooky Action at a Distance" or Quantum Entanglement. When doing a proxy session, I energetically connect with your subconscious mind with an intent so I can work on your behalf. It is not necessary to meet each other physically or for you to be physically present with me at a specific time for this to work. You can go about your day or sleep while I'm working "with" you. It is as effective as working in person.
---
Do I still need to see my doctors and take medications?
---
You should always take medical advice given by licensed medical service providers and continue with your medications as advised/prescribed by your doctors. I'm not a doctor and I do not treat you, rather my job is to help you remove energetic blocks from the body so that it naturally adjusts itself to the right condition for self-recovery. Everyone's adjustment and recovery time are different and therefore the results will be different. Please also read the disclaimer at the bottom of the website for more information.
---
---
Processing & Healing Crisis
Processing Symptoms & Healing Crisis
---
Every body goes through a processing period after each session. It is a period of time during which your body is adjusting and going through a energetic detox after negative energies are released. Most of the time processing can't be felt, but about 20% of the time symptoms or the "echo effect" of processing may be experienced. Some people call it the "Healing Crisis". Some common symptoms of processing include crying, experiencing emotional ups and downs, body ache, symptoms get worse, low energy, sleepy, flu-like symptoms, feeling sick and bad or vivid dreams. Processing may take place anywhere between 2-7 days or even weeks depending on individuals (this is why at least 7 days between sessions is highly recommended when scheduling a session package). During this time, whether or not you have symptoms, it is important to drink plenty of water especially in the first few of days to help ease the processing process and flush the unwanted out of the body system. Below are some great short videos explaining what Healing Crisis is, as well as some tips on relieving if you happen to experience it.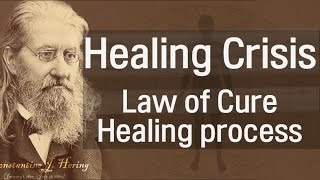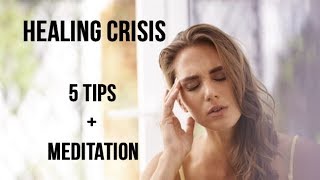 ---
---